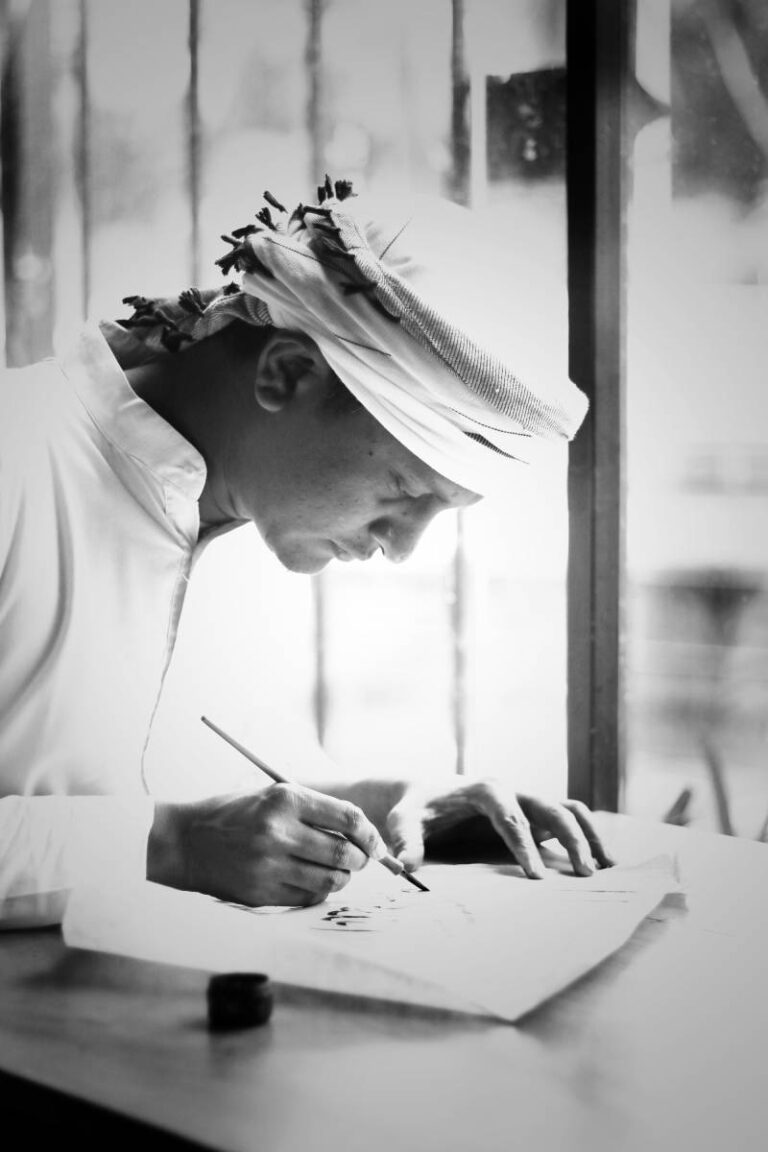 My Story
السلام عليكم و رحمة الله و بركاته
My name is Salim Khan, I am a self-taught Arabic Calligraphy Student from Mumbai, India. I have been writing Thuluth Script for the last 3 years.
I am passionate, driven, crazy and I push myself forward to learn this spiritual art with every passing day. I drive my passion with a simple desire, "I need to write today, better than I wrote yesterday".
When I began my journey in Arabic Calligraphy, the biggest challenge I faced was finding anyone knowledgeable to teach, however, I failed. In India, especially, there is a scarcity of Ustadh, who could teach this to us passionates.
When, you start an art, you are faced with two options, 
To quit, which is easy, citing lack of resources, or tons of other reasons.
Is to give everything you have, to struggle, to excruciate, and to learn. To take this journey, to make your own path.
I chose the latter, and kept moving forward, keeping in my mind the one Ayah of Qur'an, "Indeed we have opened a clear Opening"(I leave it upto you to look it up in the Qur'an), every time I faced a hurdle or ran into a wall.
I have not once looked back ever since. 
The sole reason behind my starting this course is to make Arabic Calligraphy Available and Affordable to everyone who wants to learn and has no direct access to this beautiful art. 
As most of us know resources to learn this spiritual art are limited, and restricted to a few geographical regions. The few courses that are available, so to speak are not really "Calligraphy" Courses, but Digital art at the heart of it.
Allow me to explain, you see, Calligraphy comes from two root words, namely "Callos" which means "To make something beautiful" and "Graphien" which means "To Write". So essentially, it means, "To Write Beautifully", the most important word being "Write".
But the courses which teach you this art, are more inclined towards making it "Digitised" through software, which is far from being called "Calligraphy".
There was a need to go back to basics, revive Arabic Calligraphy, especially in the non arabic speaking countries, Write with Qalams, learn by the rules, by the book!
So, I invite you to join me in this profound quest to learn this beautiful, soothing art and spread it amongst who could never have learnt it, if not for the help from Allah through you.
With the permission of Allah…Let us begin…
بسم الله الرحمان الرحيم …
What Our Students Have to Say
I have been writing Arabic calligraphy on and off and knew the basics of it. And one day, stumbling across QalamAurKagaz - I happen to talk to Salim, founder of the quintessential Arabic calligraphy page, and I must say I learnt a lot just by having one session. His foundation lesson was so strong and easy that even to this date, I have the basics as notes in my head. He made my calligraphy so easy and he is a wonderful person at heart. His helping hands will take him to the peaks of success one day, in sha Allah.
have always been fascinated with Arabic calligraphy. Not until i attended sirs class did i know that i too could create beautiful work. His classes are very precise, informative and friendly that, I Went back to attend the advanced course as well. His techniques and demonstrations are very precise and easy to follow. I would recommend this course to anyone who is looking to learn ARABIC calligraphy. The sessions are so informative and professional that an amateur like me has started teaching calligraphy to my students
I first started practicing the thuluth script with Qalamaurkagaz using the Chanel's YouTube videos. I live in Lebanon (which is an arabic speaking country) and here Calligraphers qualifies the Thuluth Script as "Malik Al Khutut" or the "King of all Scripts" to attest to its elegance and, mostly, to its complexity. So, after having experienced for two weeks the simplicity and the clarity while learning such a complex script, i decided to enroll in the advanced course. The videos in the advanced course maintained that same simplicity and clarity in teaching while showing the complexity and the beauty of the script. The best part is the weekly feedback, where you can communicate the sheets prepared during the week, with Qalamaurkagaz and evaluate your progress. Thank you Qalamaurkagaz for these amazing and soothing videos (by the way the voice in the videos is clear and calming which is a big plus) and for your ongoing support from the starts.
I loved Arabic Calligraphy since 3 years now. But have always been wondering how do they write it. I had zero idea about Arabic Calligraphy in the beginning. I just came across @qalamaurkagaz on Instagram and started following & I was updated about his Skype classes & also workshops in some cities. I did message to conduct one in mangalore. And I guess after few months Alhmdulilah the workshop was conducted. As I had zero idea about likka, container & how to use Qalams. The way sir managed to explain every bit of Islamic history, the rules of calligraphy, meezan etc. was immensely amazing. He made sure he did not miss anything and also kept contact in group chats so that we learn. Alhamdullilah! And also I have recommended many of my friends to @qalamaurkagaz because this is just Worth It! Jazak Allah khair for being one splendid Sir! May Allah SWT grant you years of Aafiya, happiness, love and blessings sir. Aameen ya Rabb!